How I Became an Artist
People sometimes ask me, "How did you become an artist?" "Were you precocious as a child?" "Did you draw a lot growing up?" Heck no! I had no inkling that I had any artistic talent whatsoever growing up. I lived in my little fantasy world of being a trapeze artist or a rodeo clown. If I wasn't living on my horse (even eating meals sometimes, or reading), then I was on a trapeze that mother had custom built for me in the back yard. I spent hours swinging upside down and flipping to the ground on that trapeze. I never ever thought about drawing or being creative....well, not much anyway. I didn't think about anything dramatic or artistic. I just wanted to be a cowboy or fly on the high wires under the big top of the circus.
So how did this artistic flare get discovered? Well, to begin with, I come from a creative, artistic family, on my mother's side. My great grandpa Hoffpaur was a creative type that held whatever job he could find so that he could play his "fiddle". He went from gig to gig traveling around parishes in the state like Avoyelles and Rapides, just so he could make his music. Once, he even moved the family out to California in hopes of making it in the movies. And my grandmother, Ruth George, his daughter, wrote poetry. Her sister, Aunt Dolly, could play anything on the piano and the two of them collaborated composing music. Then my Uncle, Dr. Donald George, mother's brother, was involved in theater growing up and ended up being the head of the Speech Department at Mississippi Southern writing speech textbooks. My Aunt Margie was gifted in the visual arts and mother was very creative, herself, writing children's books and magazine articles under a nom de plum. Mother claimed that of the four children I was the acorn that fell closest to the Hoffpaur family tree. I think that is hogwash, frankly, because Becky, my older sister, is gifted in many ways herself and seems to have that Grandpa Hoffpaur gypsy gene. My little sister, Jane, to whom I was closest, could sew anything in the world and could have been a dress designer. If she hadn't died on her 38th birthday she would be giving me a run for my money. Then there was brother Bob, a farmer, who performs best at pretending he is an only child.
So, I guess I come by this creative gene honestly.
But still, back then, I wanted to be a cowboy – only because I loved horses.
Growing up on a farm around animals probably helped, even though I really didn't take too well to all the other stuff one has to do around a farm like feeding the animals, baling and hauling hay, constantly mending and painting fences, hoeing and chopping weeds in cotton or corn fields, but I gave it my best. I did bush hog the pastures, however, because I could spend the day lost in my own thoughts.
My Mama, who knew me well, sensed that I was a kindred spirit because I was the one to whom she brought breakfast in bed and I was the one that flew to New Orleans with her to eat at Brennan's and have beignets at Cafe du Monde and rummage through antique shops on Magazine Street, before riding a train back to Alexandria. Mama showed me how to draw bare trees with their limbs branching out in all directions and how to draw cartoon faces. She made sure that I spent some summer time with my aunt Margie. Mama was constantly exposing me to art and I was oblivious to the whole thing. So, I guess, it is no surprise that, one day, Mama bought me a paint by numbers set. You know the kind with the little paint brush and a small pallet of numbered oil paints with some picture all labeled with numbers matching the paint colors on canvas board. Of course, the design was horses. I began painting those for a while, even following the numbers for a short spell before just choosing my own color scheme.
Drum roll, please.
Junior high school came. That dreaded time in life where everyone needed to conform and fit in the niche deemed suitable by the superior peers.
A very rough time for one that didn't think he fit in anywhere. I was awkward in gym class and bullied for not knowing the rules of the game. I ended up working in the office during that period, thanks to Dr. Tom Paul Southerland, who was my principal and a family friend. He insisted, however, that I take gym during the gymnastics season and I loved it. I was good at tumbling and doing flips.
And you're saying, "But what about the art? How did you become an artist?" Wait. It's coming. Be patient. I'm getting there. One of our classes, in junior high, was a three way split between home economics., woodworking and art. I drew horses of course and cut out horse shapes in shop. I was becoming more and more interested in art.
High school arrived.
Peer pressure was still dominating my existence, so along with several of my friends, I took a freshman art class under Ms. Morgan, the art teacher. "Ah-ha! That's when you decided to be an artist." you said. Nope. Not yet. Ms. Morgan, a spinster who looked like she should be the librarian, with her hair constantly pulled back into a bun, had her room divided between painting and ceramics. She intimidated me so much that I became flustered and did the unpardonable by choosing painting instead of ceramics like my friends. I was the only freshman among upperclassmen on the painting side of the room. Ms. Morgan seldom came to instruct us and spent the majority of her time with ceramics. Each week she placed a still life arrangement in front of us and we were told to paint. Basically, I was on my own because the upperclassmen ignored me also.
I failed miserably and Ms. Morgan informed me that I had no talent and forbade me to take any more art classes at Bolton.
I was devastated at first and I lost interest in art. See, I'm not an artist yet. You thought I had discovered my talent in Junior High and was wrong. Now you think I have blossomed in high school. Nope. Not yet. I remembered the gymnastics class at Alexandria Junior High and focused my attention on gymnastics instead. The gymnastics happened because a friend knew I loved to do back flips and told the gymnastics coach who asked me to join the team. I was great at tumbling on the mats and vaulting. Even won third in state for a vault one year. I could go from a side split straight up into a hand stand and do back hand springs and flips the length of the football field.
I also became a flipping cheerleader. This happened because my bossy older sister, who knew I was shy, insisted I try out and even arranged for friends of hers to let me try out with them. My back flips were so high off the ground that I became a hit and spent my senior year being a cheerleader at Bolton High School. I was known as flippy Nippy. I also joined the school choir and we performed The Pirates of Penzance that year. I loved the attention on stage and even created a character that had a lame walk unlike the rest of the chorus. I had found a new career. Theater. Yet, I didn't try out for anything else. Still, I wasn't interested in art.
In college, I floundered. I went to Northwestern State in Natchitoches and, again, because of friends, tried out for cheerleader. I won and spent my first semester flipping for the Northwestern Demons and failing all my classes. Embarrassed, I returned home and worked on the farm under daddy and helped spray houses for roaches and termites at his pest control business.
Mother stepped in about this time and insisted that I become involved with the little theater in town. I balked.. She took me. Yes, you heard that right! She took me to try out as a dancer for a student summer musical. I was mortified as she walked me into the rehearsal hall and introduced me to Earlene Ballio the dance instructor. I did try out and did fall in love with the theater, again. For a while I was known as a dancer, even becoming the male partner for Mrs. Ballio, dancing in Opera productions around town; little theater musicals and being her partner in dance recitals.
During this time I began to commute to Louisiana College. And, again, in order to make friends, I tried out and became the Wildcat mascot. Sounds like I had a career plan here, doesn't it. Eventually, I moved into the dorm and became friends with someone, down the hall, who was an art major. Since I had no idea, what in the world I should major in, he insisted that I go talk to the head of the art department, Dr. Grady Harper. I felt like such an idiot when I went for an interview. Here were these people fresh out of high school with their stylish portfolios, some with logos or initials on them, showing off their prolific art work ad nauseam while I stood there, cowered in the corner, with a manila folder and two cartoon faces, my mother had taught me to draw, sketched out on typing paper. I started to leave. Thankfully, I didn't. Dr. Harper kindly looked at my drawings and said, "Yes, we could use you in the art department." I was floored. I asked him to repeat what he said. "I think we could use you in the art department," he replied.
I BECAME AN ART MAJOR. What?!!!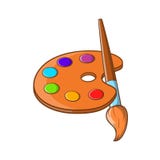 Dr. Harper became my mentor.
Well, folks, the rest is history. I was not the best student and made average grades for the most part, but at least I belonged.
After college I became an art and dance Therapist at Central Hospital for several years before a short spell teaching junior high art.
I also continued performing in practically every little theater production for several years, eventually becoming an actor and not just a dancer or member of the chorus. I loved creating art, working on stage sets, designing, painting and acting. Although I quit teaching art and worked for twenty years as the Building Superintendent at my church, Emmanuel Baptist, I continued creating art and performing. During this time working for the church, a friend and I started a yard sign business for birthdays and I began creating six-foot alligators and storks out of half inch plywood. I even created signs for yards for Christmas. Eventually the wooden creations became smaller and smaller and I developed my style. I came into my own as the artist I wanted to be.
I have even had some success as an artist. I am proud that my fifteen minutes of fame produced art that lives in France, Australia, Canada and Japan, as well as California, Florida, Texas, Tennessee, North Carolina, Washington, Michigan, Ohio, Mississippi, Pennsylvania, Washington, D.C., and Louisiana. During the world's fair in New Orleans, I had a vendor that sold my art work. The New Orleans Zoo once carried my alligator note cards and designs. A famous writer, Clyde Edgerton, owns one of my paintings. I even had a piece hang in the Louisiana Governor's mansion across from Governor Kathleen Blanco's desk.

So that is my story as to how I became an artist. I seem to have always had this creative gene. It just evolved through the years. I was a slow learner. Maybe I came upon it by accident or maybe it was just ordained. Either way, I have enjoyed being that weird artist with a strange nickname and two different colored eyes. So here I am in my seventies and I'm still not sure what I want to be. I can't swing on the trapeze or jump over bulls anymore but I can still paint.
I'm also thankful that my son, Marty, continues keeping the Hoffpaur line alive.

© Nippy Blair 2015. Posts and pictures on this blog cannot be copied, downloaded, printed, or used without the permission of the blog owner, Nippy Blair.